There are Approximately 1.3 Billion Tobacco Users in the World-Many of Whom Want to Quit

By Removing Both Nicotine and Tobacco, TAAT Global
(CSE:TAAT)
(OTC:TOBAF)
Could Disrupt This Potentially $1.08 Trillion Market
To be honest, many of us want to leave the bad parts of it behind, including the tobacco and especially the nicotine, which is extremely addictive.
"Every drug of abuse, including nicotine, releases dopamine, which makes it pleasurable to use," claims Dr. Neil Benowitz, a nicotine researcher at the University of California, San Francisco, as quoted by the American Heart Association. "And when you stop smoking, you have a deficiency of dopamine release, which causes a state of dysphoria: you feel anxious or depressed."2
Many of us trying to kick the habit have been attempting alternatives such as e-cigarettes.
But it's just not the same.
Consider this as well. E-cigarettes could be just as bad for you. Most e-cigarettes contain nicotine and some deliver dangerous chemicals such as formaldehyde.2
As a result, this is where TAAT Global could play a role.
TAAT believes that it has developed a smokable alternative to tobacco cigarettes that contains no nicotine and no tobacco. The company also claims that its Beyond Tobacco product undergoes a 14-step process to taste, smell, and smoke just like tobacco, including a patent-pending refinement technique that creates a tobacco-like taste and aroma.1
One of TAAT's closest competitors is newly issued RLX Technology, which has a market cap of approx. $44.47 billion. Meanwhile, TAAT currently has a market cap of about $157 million.
There are approximately 1.3 Billion tobacco users in the world 1– many of whom want to quit.
By removing tobacco and nicotine, TAAT could disrupt a tobacco market expected to reach around $1.08 trillion by 2027.3
TAAT claims that its Beyond Tobacco product undergoes a 14-step process to taste, smell, and smoke just like tobacco, including a patent-pending refinement technique that creates a tobacco-like taste and aroma1.
With approximately several hundred million legal-aged smokers worldwide, there could be a lane for a nicotine-free and tobacco-free product such as TAAT to increase market share.1.
TAAT appears to be currently launching in Ohio, with product on shelves as of December 2020.1
TAAT appears to have distribution in its launch market with an Ohio tobacco wholesaler who also distributes for major tobacco companies such as Altria, ITG, and RJ Reynolds (subsidiary of British American Tobacco).1
TAAT Beyond Tobacco could look to achieve a significant consumer price-advantage in many states as they look to give smokers a better value proposition as compared to tobacco cigarettes.
A favorable regulatory environment could allow TAAT to sell in most states.1
If one pack of TAAT Beyond Tobacco a day was sold at (around) 20% of all U.S. tobacco points of sale, TAAT would capture approximately 0.25% of the market.1
Current cigarette alternatives do not appear to offer a comparable experience.1
TAAT became publicly traded on the CSE in June 2020.1
TAAT added two Big Tobacco executives to the team in August 2020, including Setti Coscarella, a former lead strategist with Phillip Morris, and Tim Corkcum, a former executive with 20+ years of working for PMI throughout North America.1
After going public in late June 2020, TAAT Global hit a low of about 66 cents and moved to a high of about $5.08. This return was good for around 670%. After pulling back to double bottom support at around $2.25, the stock recovered to approximately $4.80. With sales starting to look like they are increasing, it could mean potentially good things in the near-term.
The stock is also appearing to push higher from oversold conditions according to its relative strength (RSI), MACD, and Williams' %R.
Is There Still Further Growth Ahead?
Potentially, yes. Why? Consider this.
The U.S. tobacco market had a valuation of approximately $100 billion in 2016. Over approximately 215 billion cigarettes were sold to about 34 million adults in the U.S. in 2016 also. To put that in perspective, this was about 14% of the population.1
Of these consumers, almost two-thirds smoked more than 15 cigarettes a day.1
This market appears to be one that TAAT could potentially tap into. Not only is TAAT seemingly delivering tobacco-free and nicotine-free cigarettes, but it is also claiming to offer a much better alternative for millions of smokers.
It also claims to be doing so more cost-effectively.
Led by experienced leaders from the tobacco industry, TAAT appears to be a company dedicated to developing a nicotine-free and tobacco-free smoking experience through products offered in "Original," "Smooth," and "Menthol" varieties.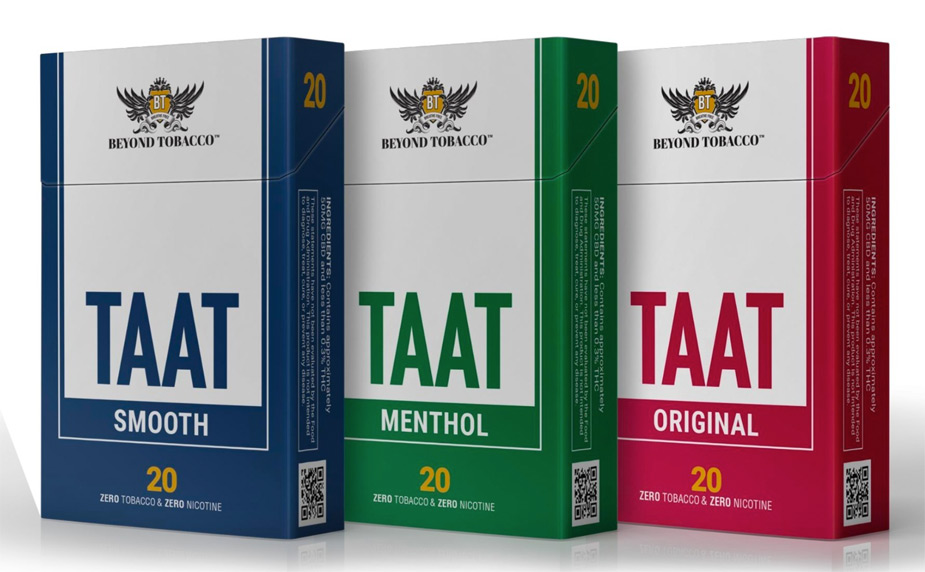 Recently, the company claimed that its goals to expand both in the U.S. and internationally were progressing.4
Based on initial sales data and the seemingly positive reception of TAAT by its Ohio customers, the company appears to have accelerated development of an e-commerce platform through which TAAT can be purchased online by legal-aged smokers in the United States 4.  Through this platform, these customers can potentially purchase TAAT's products online by the carton 4. Subscription delivery options for TAAT could also be available and offer legal-aged smokers the choice to automate their repeat purchases of TAAT. 4
Setti Coscarella
Chief Executive Officer
Setti brings a wealth of knowledge across a variety of disciplines to TAAT. Building upon experience in banking, private equity, and entrepreneurship, Setti moved to the world of tobacco at Philip Morris International in 2017 where he was a lead strategist for its Reduced-Risk Products division.
While at PMI, Setti worked with thousands of individual smokers to better understand how to position smoking alternatives to them and developed programs that could help smokers discover and successfully convert to RRPs. Setti holds an MBA from the Schulich School of Business with specializations in Finance, Marketing, and Corporate Strategy as well as a B.Sc. from the University of Toronto in Mathematics and Physics.
Tim Corkum
Chief Revenue Officer
Tim has built a storied career in tobacco and looks to bring this expertise to TAAT™. As a former executive at Philip Morris International ("PMI"), he led international commercialization initiatives for combustible cigarettes and new products in the Reduced-Risk Product ("RRP") category. Over a 21-year tenure at PMI, Tim held senior positions in Business Development, Sales Strategy, Corporate Affairs, and Key Account Management. Tim holds a BA from Carleton University with a concentration in Law.
Joe Deighan
Founder – Research and Development
Joe founded vape liquid maker JJuice in 2012, which gained distribution in all U.S. states and in 26 other countries, in addition to private label production for other brands. JJuice was acquired from Joe in a cash deal valued at more than USD $800,000 in 2017. Joe currently oversees R&D and production for TAAT™, knowing Beyond Tobacco™ better than anyone.
Michael served in various positions for over 20 years with Altria and Philip Morris International including heading Altria's Corporate Venture Fund and leading PMI's business activities as General Manager for Norway and Denmark. Most recently, Michael founded and is presently CEO of SXN Strategy Partners in Richmond, VA, which advises boards and executive teams of "blue chip" institutional investors as well as venture capital and private equity firms on long-term strategies. Michael also helped establish Trolley Ventures, a seed-stage venture fund working with startups based in the state of Virginia.
Kit was named "Dean of the Industry" in 2017 by the Convenience Distribution Association for his national-level contributions to the distribution trade. Kit has more than three decades of experience in convenience wholesale, including top management roles with well-known convenience distributors in the northern United States. In the tobacco industry, Kit also served on the board of directors of Newport cigarette maker Lorillard leading up to its estimated USD $27.4 billion acquisition in June 2015.
Download the latest TAAT Global Investor Kit
Learn More About TAAT Global (CSE:TAAT | OTC:TOBAF) at your brokerage today!
Source 1: https://taatglobal.com/Investor_Presentation.pdf
Source 2: https://www.heart.org/en/news/2018/10/17/why-its-so-hard-to-quit-smoking
Source 3: https://www.grandviewresearch.com/press-release/global-tobacco-market
Source 4: https://taatglobal.com/2020/12/31/taat-plans-for-expansion-by-doubling-beyond-tobacco-production-capacity-developing-u-s-online-store-and-filing-trademarks-in-54-countries/
Source 4: https://www.youtube.com/c/TaatGlobal/videos
IMPORTANT NOTICE AND DISCLAIMER
BullWhisperer and its owners, managers, employees, and assigns (collectively "the Publisher") is often paid by marketing companies to host websites on which articles profiling public companies are published. The Publisher has not been compensated by any of the profiled companies. The Publisher's compensation for articles appearing on this website is as follows:
The Publisher has been paid approximately $750 per week while the advertisement campaign was active as compensation to host the article profiling TAAT Global.
The Publisher has not participated in the creation of the content of any articles appearing on this website and so cannot guarantee the accuracy or completeness of the information in any of the articles. The Publisher expressly disclaims any responsibility or liability for statements made in any of the articles.
SHARE OWNERSHIP. The Publisher does not own any shares of any profiled company and has no information concerning share ownership by others of any profiled company. The Publisher cautions readers to beware that third parties, profiled companies, and/or their affiliates may liquidate shares of the profiled companies at any time, including at or near the time you read the articles on this website and this has the potential to hurt share prices. Frequently companies profiled in such articles experience a large increase in volume and share price during the course of investor awareness marketing, which often ends as soon as the investor awareness marketing ceases.
NO SECURITIES OFFERED. The articles on this website are not, and should not be construed to be, offers to sell or solicitations of an offer to buy any security. Neither the articles on this website nor the Publisher purport to provide a complete analysis of any company or its financial position. The Publisher is not, and does not purport to be, a broker-dealer or registered investment adviser. The articles on this website are not, and should not be construed to be, personalized investment advice directed to or appropriate for any particular investor. Any investment should be made only after consulting a professional investment advisor and only after reviewing the financial statements and other pertinent corporate information about the company. Further, readers are advised to read and carefully consider the Risk Factors identified and discussed in the profiled company's SEC and/or other government filings. Investing in securities, particularly microcap securities, is speculative and carries a high degree of risk.
INDEMNIFICATION/RELEASE OF LIABILITY. By reading articles on this website, you acknowledge that you have read and understood this disclaimer, and further that to the greatest extent permitted under law, you release the Publisher, its affiliates, assigns and successors from any and all liability, damages, and injury from articles appearing on this website. You further warrant that you are solely responsible for any financial outcome that may come from your investment decisions.
LINKS TO THIRD PARTY WEBSITES. This website enables users to link to external websites not under the control of The Publisher. The Publisher has no control over the nature, content, and availability of those sites. The inclusion of any links is not intended as, and should not be construed as, a recommendation or endorsement of the content or views expressed on such external websites. The Publisher expressly disclaims any representation concerning the quality, safety, suitability, or reliability of any external websites and the content and materials contained in them. It is important for users to take necessary precautions, especially to ensure appropriate safety.



Download the latest TAAT Global Investor Kit
Buy TAAT from Online Store